Based in upper West Maui, Extreme Maui Fun, LLC offers  unique Stand-Up Paddle tours & lessons from beautiful Napili Bay.

Owners Carrll & Gary Robilotta are long-time watermen and knowledgeable about Maui's ocean conditions, reefs, and, eco-systems. Extreme Maui Fun's guided tours are designed to meet paddlers at their individual level, from beginners to advanced. Our tours are downwind only, making them enjoyable from start to finish.

Our personal attention is what sets us apart from most rental operations on the Island: we are with  you during the entire tour or lesson.

...Imagine yourself paddling around Maui's pristine

blue waters, exploring idyllic coves where honus (Hawaii's Green Sea Turtles) abound.

Our expert & personable guides and small groups ensure that your SUP adventure in paradise will

be a lasting memory!

We're now pleased to introduce SUP rowing, the latest watersport we predict will take Maui by storm. Please be sure to visit
www.RowMaui.com
for more info.
Mahalo nui for visiting and we look forward to paddling with you soon!

Site copyright Extreme Maui Fun, LLC

This site is audio~enhanced. Your speakers should be powered on.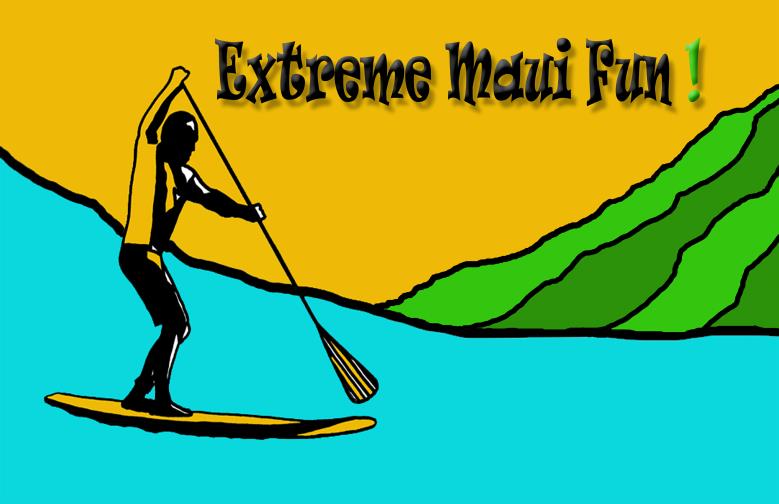 Call or email us today, paddle with us tomorrow!

       808 298 6178

     e: extrememauifun@yahoo.com

  Unique guided Stand-up Paddleboard tours & lessons

             in the pristine waters of Napili~Kahana!